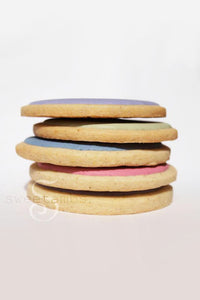 SweetAmbs Cookie Recipe and Royal Icing Recipe - PDF Download
Find this Orange Cardamom Cookie recipe and more recipes along with over 150 cookie decorating video tutorials by joining my Cookie Art Club: https://sweetambs.mn.co/
This is my preferred roll out cookie recipe when decorating with royal icing. This orange vanilla cardamom cookie* (aka orange vanilla spice cookie) is slightly chewy on the inside with crispy edges, keeps its shape while baking, and tastes great. It contains orange zest, vanilla bean and cardamom to give the cookies a unique flavor. It also contains agave syrup, which helps to keep them soft. Agave syrup browns more quickly than sugar, so keep that in mind when baking. This recipe is ideal for making cookies that will be decorated with royal icing. 
A link to download the recipes will appear at checkout and a link will be sent to you by email after completing your purchase. You will receive the recipes in both U.S. and metric measurements.
*For a plain cookie, omit the orange zest and cardamom. Don't be afraid to experiment with other flavors! Try a combination of almond extract and lemon zest for a twist on this recipe.
You will also receive the royal icing recipe with this purchase. This royal icing recipe is made with meringue powder. You can read more about royal icing here: https://www.sweetambs.com/tutorial/royal-icing-consistencies/
Use this icing recipe to make perfectly smooth iced cookies and to make beautiful decorations such as brush embroidered flowers and bead borders.
DISCLAIMER: The outcome of these recipes can be affected by many factors including but not limited to weather, altitude, variations in baking equipment and tools, as well as brand of ingredients used. It is recommended that you make a test batch and make the appropriate adjustments BEFORE making cookies for a special occasion or for a customer. This is a recipe that is used on a regular basis at SweetAmbs with fantastic results, but that does not mean that it will be right for everyone. Please read this post for more information on making cookie dough.
By using SweetAmbs® cookie recipe, icing recipe, and video tutorials, you agree to the terms of use.