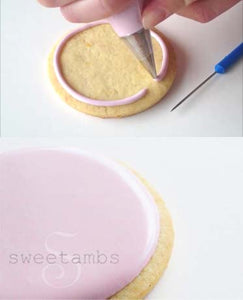 The Basics - Lessons 1 through 5 - Digital Download
Regular price $14.99 Sale
These are the basic techniques that are the foundation for all of the other tutorials in this cookie decorating series. This package comes with Lessons 1-5 as well as SweetAmbs cookie and royal icing recipe.
These instructional videos are hands-only tutorials with instructions written on the screen and are not narrated. If you would like written transcripts, please contact us here.
A link to stream and download these videos will appear at checkout and a link will be sent to you by email after completing your purchase. Have questions? Contact us here!
Lesson 1: How To Make Royal Icing
Lesson 2: Royal Icing Consistencies
Lesson 3: Flooding With Royal Icing
Lesson 4: Piping Basics
Lesson 5: How To Pipe A Bead Border
Recommended supplemental reading: Royal Icing Consistencies and Troubleshooting Tips and Tips On Making Cookie Dough, Packaging and Storage of Cookies
DISCLAIMER: The outcome of these recipes can be affected by many factors including but not limited to weather, altitude, variations in baking equipment and tools, as well as the brand of ingredients used. It is recommended that you make a test batch and make the appropriate adjustments BEFORE making cookies for a special occasion or for a customer. This is a recipe that is used on a regular basis at SweetAmbs with fantastic results, but that does not mean that it will be right for everyone. Please read this post for more information on making cookie dough.
By using SweetAmbs® cookie recipe, icing recipe, and video tutorials, you agree to the terms of use.