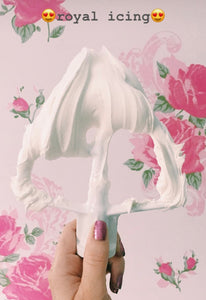 Lesson 1 - How To Make Royal Icing - Digital Download
Looking to try royal icing for the first time? Or maybe you've tried making it already and just can't seem to get it right! Download my video on how to make royal icing for easy-to-follow, step-by-step instructions to get it right every time.
These instructional videos are hands-only tutorials with instructions written on the screen and are not narrated. If you would like written transcripts, please contact us here.
A link to stream and download this video will appear at checkout and a link will be sent to you by email after completing your purchase. Have questions? Contact us here!
Recommended supplemental reading: Royal Icing Consistencies and Troubleshooting Tips
By using SweetAmbs® cookie recipe, icing recipe, and video tutorials, you agree to the terms of use.