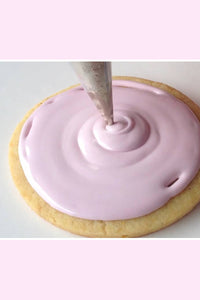 Lesson 3 - How To Flood A Cookie With Royal Icing
Learn how to flood a cookie with royal icing with this video tutorial. It has easy-to-follow, step-by-step instructions to get it right every time.
These instructional videos are hands-only tutorials with instructions written on the screen and are not narrated. If you would like written transcripts, please contact us here.
A link to stream and download this video will appear at checkout and a link will be sent to you by email after completing your purchase. Have questions? Contact us here!
A video on how to make royal icing is available here: https://sweetambs.myshopify.com/collections/cookie-decorating-tutorials/products/lesson-1-how-to-make-royal-icing-digital-download

Recommended supplemental reading: Royal Icing Consistencies and Troubleshooting Tips

By using SweetAmbs® cookie recipe, icing recipe, and video tutorials, you agree to the terms of use.